At Audi Peabody, we understand that you're an individual with a unique set of preferences, needs, wants, and circumstances. That's what sets our Audi Finance Center apart from the rest.
We take the time to get to know all our customers from Peabody, Danvers, Beverly, and the surrounding Massachusetts communities. If you have any questions about our financing department, contact us now.

Audi Financial Services
Working with you individually allows us to develop the Audi financing plan that makes perfect sense for your lifestyle. We work to ensure that the payoff period is appropriate and the APR rate is ideal.
Regardless of whether you're looking for a new car loan, a new car lease, a used car loan, Audi Certified Pre-Owned financing, or anything else, we've got you covered. We'll even do our best to accommodate any refinancing or loan adjustment request. Simply get in touch with our team today with any questions.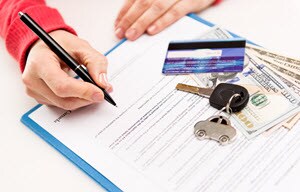 Audi Finance Tools
We've gone ahead and posted a few resources on our website that'll allow you to start this process as soon as you'd like. As always, feel free to reach out to us right now if you have any questions!
Get pre-approved: This quick and easy Audi finance application will only take moments to fill out, but it'll save you tons of time down the road. You only need some basic information on hand, such as your first name, last name, date of birth, driver's license number, email address, etc.
Sell us your car: If you'd like to put your current car/SUV toward a new or used Audi, you can bring it to our brick-and-mortar location in Peabody, MA. Or, read more about it online.
Value your trade: Last, but certainly not least, if you're curious to see how much your current vehicle is worth toward your next Audi (before you take the trade-in plunge), our helpful trade evaluator can tell you.
Our Team of Financial Wizards
The guys and gals at our Audi financing center know exactly what they're doing, as they've been in the business for years. They've created longstanding connections with local banks and lenders, and they're not afraid to leverage this network if it means getting you an even slightly lower rate on your loan/lease.
Most importantly, they'll treat you with the respect that you deserve. They always behave courteously!
Start Your Audi Financing Journey Today!
If you live around Beverly, Danvers, or Peabody, then our Audi Peabody Finance Center is the ideal place for all your Audi financing needs. We encourage you to reach out to us ASAP for more information.
And, if you think you're ready to take that next small, simple step toward driving the Audi of your dreams, you can fill out an application to get pre-approved on our website. It'll barely take minutes! 
How Long Are Car Loans?