Claim Your Special Offer by Downloading Now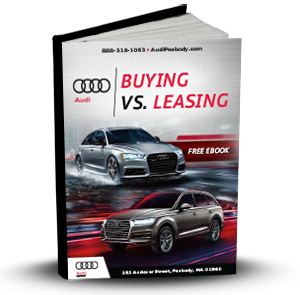 Are you sure you're interested in driving a new Audi, but unsure of whether you'd rather buy or lease? Well, if that's the case, then this Ira Audi of Peabody eBook is perfect for drivers like you. Download it today! Here are just a few of the many things that you'll learn from our Buying vs. Leasing eBook:
Benefits of Buying
Potential resale value, decreased liability, more freedom, etc.
Benefits of Leasing
Get the next car every few years, no depreciation, etc.
Online Automotive Research 
How to get the most out of this step.
The Various Costs
Down payment, monthly payments, disposition fees, and auto insurance.
If you live near Peabody, Danvers, Beverly, or any of the surrounding Massachusetts communities, then fill out the form on this page and download your free Buying vs Leasing guide today!