At Ira Audi of Peabody, we believe that you deserve to have access to an expert team of technicians and all the information you need to care for your vehicle in the best way possible. That way, you'll tackle the roads of Peabody, Danvers, and Beverly with smooth performance, no matter what you encounter during your journey.
So, if you think your automobile may need a brake repair and you're looking for brake repair near you, we're here to help! Skip to scheduling your brake repair right here on our website or contact us by phone. Continue reading to learn more about our brake services and your vehicle's brake health in general!  Feel free to contact the friendly professionals at our state-of-the-art service center! Give our service center a call at 877-640-9875 today!
Our Educational Brake Guides: 
Our Brake Repair Services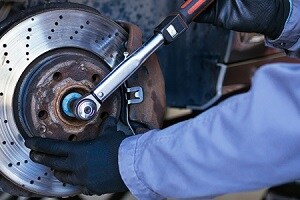 When you imagine some of the most critical aspects of your car, the braking system is likely one of the first items that comes to mind. As a central component of helping you avoid accidents, your brakes hold a lot of weight in helping you feel safe on the road.
Luckily, the skilled mechanics at our repair facility are here to assist you when you think your brakes may need some attention.
Our team offers up years of experience with all different types of services and situations. Thanks to our expertise, every repair will be performed with speed and proficiency, so you can get back to your busy schedule in no time.
On top of that, we make it simple to reserve your next visit from the comfort of your own home. All you have to do is check out our Schedule Service Appointment tab, located under the Service, Parts, and Collision dropdown menu.
After you've filled out the fields with your information and preferred service date, our staff will reach out to you to confirm your brake repair appointment.
Your Brakes May Need Repair If You Notice:
Vibrating: If you feel a shaking sensation when you apply your brakes, it could be that your rotors have been warped from excess braking. Usually, this symptom is a result of stop-and-go-traffic, travelling down steep hills, or other situations. When you start detecting this in your car, be sure to contact a trusted technician.
Grinding: After your brake pads wear down completely, you'll hear a screeching sound when you press on the pedal. This noise typically indicates that your rotors are being scratched by the exposed metal underneath the brake pads. So, instead of ignoring this warning, schedule a brake repair service right away to avoid further damage.
Fading: You shouldn't ever be put in a situation where your brakes don't respond quickly. If you begin to detect a "squishy" feeling when stopping at a red light, take your vehicle over to a trusted service facility right away. Although this symptom could be caused by a brake fluid leak, it's essential to have an inspection performed by a professional, so you can properly identify the issue.
Schedule Your Brake Repair Today!
At Ira Audi of Peabody, we're dedicated to ensuring that you're equipped with all the resources you need to know when it's time for you to get a brake repair near me.
So, if you've been noticing any of these warning signs or just want a quick checkup, feel free to schedule an appointment at our service center today!
We're proud to provide drivers of Peabody, Danvers, and Beverly with compassion and attention to detail during every service visit.