At our Audi dealer, we strive to provide all the drivers in Lynn, MA, with a massive selection of new and used Audi vehicles. Plus, we work hard to make sure you'll have access to the best Audi financing and Audi repair services as well.
In other words, if you're searching for an Audi dealer near Lynn, MA, then you're in the right place. Get started by browsing our Audi inventory right here or continue reading to learn all about our services. Don't hesitate to contact us if you have any questions!
New & Used Audi Inventory
Audi vehicles are known for their premium features sure to give any Lynn, MA, commute an upgrade. When you're in the market for a stylish and feature-rich vehicle, look no further than our Lynn, MA, Audi dealership. Here, you'll find a large selection of new and used vehicles.
Visit our showroom or browse online to check out our full selection of Audi vehicles. Whether you browse our complete selection in person or online, you'll have access to a comprehensive vehicle tour. Plus, you'll be able to see vehicle specs that will help you learn more about features, performance, and more.
Some of the vehicles you'll often find in our dealership include:
Audi Q8
Audi A4
Audi Q3
Audi A6
No matter what you're looking for, you're sure to find the Audi of your dreams at our dealership.
Audi Certified Pre-Owned Inventory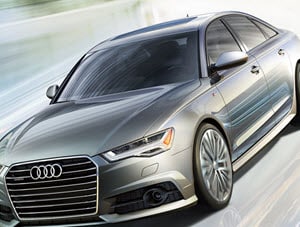 In addition to our new and used inventory, our Audi dealer near Lynn, MA, also offers a wide selection of certified pre-owned (CPO) vehicles. These vehicles walk the line between new and used. That's because, while they've been previously owned by at least one driver like used vehicles, they're in near-perfect condition thanks to the strict guidelines set by the manufacturer.
For example, before an Audi vehicle can wear the CPO badge with pride, it must first pass a rigorous inspection of more than 300 points. This inspection checks everything from the interior and exterior of the vehicle to the underbody.
This inspection assures not only that everything looks aesthetically pleasing but that it's also running like a new vehicle. The inspection also includes a road test to ensure everything looks and sounds right when driving.
When purchasing a CPO Audi, you'll gain many benefits, like:
Unlimited Mileage Audi Certified pre-owned Limited Warranty
24-Hour Roadside Assistance
No-charge scheduled maintenance plan
24-hour customer support
Just like our new and used vehicles, our certified pre-owned selection is also available to view either in person or online. When browsing online, be sure to utilize our filters to help you quickly find the perfect Audi for you.
Afterward, you'll want to stop by our Audi dealer near Lynn, MA, to take it for a test drive. Once you experience its performance and features in person, you'll know if it's the one for you.
Streamlined Financing Process

 Once you find something you like-regardless whether it's new, used, or certified pre-owned-next comes the last step before you can take your new purchase for a victory tour of Lynn, MA: finalizing your purchase.
To help you navigate the financing waters, our Lynn, MA, Audi dealership comes with an on-site financing center. Here, our team of financing experts will walk you through every step of the financing process, explaining what to expect and answering any questions you may have.
After you're comfortable, you'll talk one on one with one of our financers. Together, you'll discuss your unique financing needs and how your custom Audi financing plan will take into consideration these needs. They can help you decide between buying or leasing as well as help you pick the automotive loan that offers the most competitive rates.
Helpful Online Tools
At our Audi dealer near Lynn, MA, we believe in providing as much information as possible. That's why we offer a variety of online financing tools. From resources about the best questions to ask to a vehicle trade-in estimator, our tools are designed to help you quickly understand your needs.
To get a head start on the financing process, we encourage you to fill out an application to get pre-approved for financing. Once we receive your information, we'll reach out to discuss your options.
Thinking of trading in your current ride? Our Value Your Trade tool will give you an estimated value for your vehicle based on year, make, model, and more.
Car Buying on Your Terms: Online Purchasing Options
Thanks to our AcceleRide® program, you can purchase your next Audi right from the comfort of your own home. This secure online platform gives you the freedom to select your customized financing plan and sell us your current vehicle just as you would if you visited us in person.
The only difference is you'll do all this from your couch!
After finalizing your custom plan, let us know if you prefer to pick up your new ride from our dealership or have it delivered right to your home!
State-of-the-Art Service Center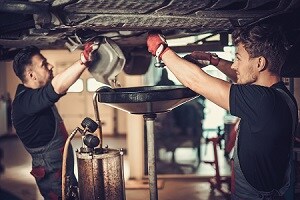 When it's time for either routine maintenance or emergency repairs, our expert Audi technicians can take care of it. They've been in the business for years, and they'll know exactly how to fix any issue: tire rotations, engine replacements, broken headlights, and more.
They'll handle any automotive work quickly and efficiently, so you can get back on the road as soon as possible. If you'd like to wait for your vehicle, you can do so in our comfortable lounge. Here, you can enjoy lots of amenities, including:
Free Wi-Fi
Flat-screen TVs
Private workstations
Complimentary coffee, water, and snacks
Our Lynn, MA, Audi dealership offers more than experienced technicians. Here, we also offer valuable resources designed to help you learn more about your Audi. Some of our helpful resources include articles about how to check tire pressure, how to connect your phone, and reasons why your air conditioning is blowing hot air.
We also offer flexible service appointments. That way, keeping your Audi in tip-top shape will never interfere with you and your daily routine. In addition to regular business hours, we also offer early-bird and Saturday appointment times.
Contact us by phone or online to schedule your service appointment today!
Audi Parts & Accessories
Another benefit to our Lynn, MA, Audi dealership is our on-site parts and accessories center.
While working on your vehicle, we may find a part that needs to be replaced. If so, we'll use only genuine parts. These are the same ones found on the assembly line when the vehicle was first built. So, not only will the part fit inside the car perfectly, but it will help keep it running well for many years and miles.
If you prefer to work on your vehicle yourself, you can order them through our parts department. We carry the same ones used in our service center, so you know they'll be of the highest quality.
Whether you need a battery, a belt, or a filter, you'll find it here. Plus, if you want to upgrade or enhance any part of your Audi, you can check out our supply of Audi accessories.
If you're looking for new design elements, we have mirror caps, spoilers, and pedal covers to choose from. Are you more interested in extra cargo options? If so, then ask about our bike racks, tow hitches, or cargo organizers.
We have many more parts and accessories available to our customers. To order some, just give us a call or fill out our order parts form. Let us know what you need, and we'll let you know when the item is ready to be picked up.

What We Love About Serving Lynn MA
Lynn is the largest city in Essex County and was an early colonial settlement and industrial center. Today, it's known for its diversity, beautiful architecture, cultural significance, luxury loft apartments, and plethora of beautiful public parks. It's really a great place to live and work.
One popular spot to visit is the Lynn Woods Reservation. This 2,200-acre municipal forest park is actually the second largest one in the United States. Here, you can have a picnic, go for a peaceful walk, or just admire the stunning views.
If you prefer to walk or run along the beach, then stop by the Lynn Shore. You can either travel right on the beach or walk on the sidewalk to get some exercise with a great view of the water.
Whether you want to visit the outdoor or indoor attractions, you'll still need a way to get there. Luckily, our dealership, where you'll find lots of dependable automobiles, is just a short trip away from Lynn.
Visit Audi Peabody near Lynn MA Today!
Are you ready to give your Lynn, MA, travels an upgrade? If so, purchasing a luxury Audi vehicle is one of the fastest ways to pump up your commute. When you're ready to get started, be sure to visit our Audi dealership.
While we've covered the basics of our dealership, there's a lot more to this Audi dealership near Lynn, MA, than what we've discussed here. Since Audi Peabody is a full-service dealership, we make sure every aspect of your car ownership journey is covered.
Ready to discover more and take the first steps toward cruising the town behind the wheel of your new vehicle? Contact us at Audi Peabody today to plan your visit. We look forward to meeting you!