The A3 is a luxury sedan known for having a top-quality interior and loads of convenient features. If this vehicle appeals to you, you can choose to either buy or lease it. Leasing a car is a great way to have the most recent model for your trips around Peabody, Danvers, and Beverly.
Below, we'll tell you a bit more about this impressive vehicle and how you can lease one today at Audi Peabody!
What You'll Find In the Audi A3
In the Audi A3, you'll find an engine with lively acceleration, comfortable seats, and a high-tech infotainment system.
The vehicle comes standard with a 2.0L TFSI® 4-cylinder engine that delivers 186 horsepower and 221 lb-ft of torque. If you're craving even more power, you can get the available 2.0L TFSI® 4-cylinder engine with quattro® all-wheel drive. This engine produces 220 horsepower and 258 lb-ft of torque, giving you energetic acceleration.
When you're cruising down the highway, you'll want high-tech features to help keep you entertained. The A3 has these in spades, starting with the MMI® infotainment system. The 7-inch display screen has crisp graphics and an intuitive menu layout, making it easy to navigate through the various options.
MMI® touch is available as well to help simplify the use of the navigation system. Rather than scrolling through various letters and numbers, just "write" an address on top of the center console button. Your destination will appear, and you can quickly be on your way, all thanks to Audi's convenient handwriting-recognition technology.
Advantages of Leasing an A3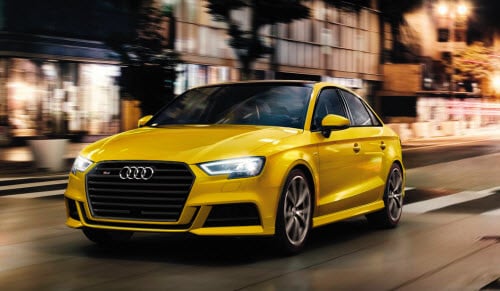 If you lease the Audi A3, you'll get to take full advantage of several perks, one being the lower monthly payments.
You'll also get flexible lease terms and options for your peace of mind. A range of mileage options will be available to suit your driving needs as well. For instance, if you have a shorter daily commute, you could opt for 10,000 miles per year. If your drive to work is longer, or maybe you often take trips on the weekends, you may want to get a yearly 15,000-mile package.
When the lease term ends after a few years, you can trade the car in for a new one or buy it to enjoy for many years and miles. No matter what, we'll make the entire leasing process, from start to finish, as simple and streamlined as possible.
Outstanding Customer Service when Leasing Your A3
Another benefit of leasing the A3 at our dealership is that you get to be part of the Audi-owner experience. You'll make payments through Audi Financial Services where you'll have a convenient online account. A call center is available to answer your questions 24/7, and you can opt for recurring online payments to make things easier for you.
If you wish to end your lease a little early, we'll help walk you through the lease-end process. This way, you can rest assured that you're always driving in your dream car.
Lease the Audi A3 Today
If you're interested in leasing the Audi A3 near Peabody, Danvers, and Beverly, don't wait. Contact our finance team at Audi Peabody and we'll get the process started right away!